Thanks for your interest in Swade Farm Grass-Fed Beef.
Swade Farm, located about 4 miles NW of Battle Ground, Clark County, Washington, has been growing beef cattle for about 20 years.
Swade Farm is not a part of Swade Earth Services LLC, a land modification and land maintenance company.
More and more folks are considering small farm "grass fed beef" as their primary beef source rather than the store purchased beef sources. (And yes, we eat our own product.)
The "volunteers" (cattle) are sold as a complete living animal with the cost based on the "hanging weight" of the slaughtered animal. If you don't want to purchase the whole animal (say you only want ¼, ½, or ¾ of the animal), another customer will be teamed up with you to purchase the rest of the animal. If you have someone who wants to go in with you on the purchase, you can be teamed up with them.
There are other costs associated with purchasing "sides." You will need to pay your portion of the slaughter fees (to the slaughter company) as well as the processing fees (cut and wrap) which you will pay to the butcher. This is detailed below.
Swade Farm does not sell "cuts" (packaged beef). You will need to see your local market if you are looking for these products.
Several Swade Farm customers have been purchasing beef from Swade Farm for many years.
Swade Farm purchases animals (typically Angus) in early March of each year and "harvest" them in late November. That gives them about eight months to grow on my grass and hay. They usually weigh between 900 to 1300 pounds by harvest time. Sides (½) generally run from 250 to 350 pounds each hanging weight.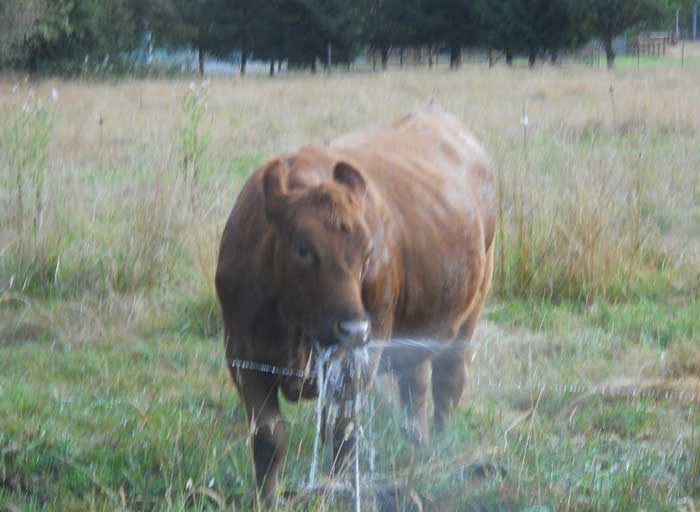 In order to ensure we have enough product for all our customers, Swade Farm needs to order enough calves in March for the fall harvest. We typically purchase a few extra head just in case. However, to ensure you get your Swade Beef, it is recommended that you contact Swade Farm prior to March 1st.
Swade Farm uses no growth hormones, only use as necessary the same fly control that the horse people use, and the animals don't ever get sick so need no medical treatments. They get plenty of grass, some locally grown hay, a mineral block (with selenium), and of course all the well water they can drink. They free roam graze on five different fields and have trees to get under if they like to get in the shade during hot days or out of the sun.
Basic beef purchasing process:
If you purchase ¼, you will get 1/8 of the front quarter and 1/8 of the respective rear quarter. If you purchase ¼ and your friend purchases ¼, and you want the same ½, then you should let me know when you order so I can pair you together. The 2012 swade beef price was $2.65/pound hanging weight. Slaughter fees for 2012 were $70/animal. Cut/wrap fees were $0.57/pound hanging. Prices vary depending upon market conditions. Swade Farms strives to keep prices competitive. (Sample is based on 2012 levels. Prices may rise as time passes.)
You pay Swade Farm for the hanging weight cost plus your portion of the slaughter fee (for example if you buy ½ cow, you pay 70/2 = $35) plus the weight times the hanging weight price as soon as I notify you. You then pay Mayer's Market (butcher) the cut/wrap fee when you pick up your beef. I pay the slaughter guys the slaughter fees when they slaughter.
The process is a mobile slaughter unit comes to the farm and slaughters the volunteers. The sides are then transported to the market where they are weighed and then they hang in the cooler for about 10-15 days (seasoning). Mayer's market is a small business on 72nd Ave (I've used them for years and prior to that, Swade Farm used the owner's brother's market in Ridgefield). When the sides are properly seasoned, they are then processed. The butchers cut and wrap (double butcher paper) the beef to order and then it is quick frozen. It is ready to pick up as soon as it is frozen. The cutting order for this side is typical, 3/4 inch steaks, 4 lb roasts, 1 lb burger packages. You will need to contact them to tell them how you want your beef processed.
If you are interested in how the beef is processed, call Mayer's Market direct. You could even visit the market if you need more information. Mayer's is open Tues-Fri 10 to 8 and Sat 10 to 3 (I think). Their number is 360.574.2828.
Any questions call Swade Farm @ 360.989.5891